Why a Vinyl Fence is an Excellent Choice
If you are looking to install a fence for your backyard, you will find that you have a lot of great options when it comes to fence materials. However, one option that stands out above the rest is a vinyl fence.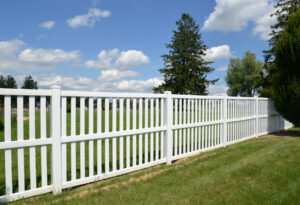 3 Reasons to Choose a Vinyl Fence
1. It Isn't Affected by UV Rays
One great reason to go with a vinyl fence is because it won't be negatively affected by UV rays from the sun. These rays are known to cause damage and deterioration to other materials, but because vinyl incorporates titanium dioxide into its makeup, you have protection from the sun. This is an excellent way to protect your investment because you know that your vinyl fence will last you for many years without becoming damaged by the sun.
2. It Looks Amazing
Another great reason to go with a vinyl fence is because of how amazing it looks. The vinyl creates a classic, yet sophisticated look, that is hard to create with any other type of material. The white, or other light colors of vinyl that you choose, also creates a very clean look for your fence that gives it the appearance of being new at all times.
3. They Offer A Great Deal of Privacy
When you choose to go with a vinyl fence, you know that you are going to receive a great deal of privacy. Most vinyl fences are 6 to 8 feet high, which means they are plenty high enough to hide the entire view of your yard. This is perfect if you want to enjoy your backyard without feeling like others can see you. This also helps you to feel safer when your children are playing in the backyard on their own because you know they are hidden from the view of others.
Vinyl Fence Installation
Craftsman Fencing offers professional quality fencing installation in Virginia Beach, Norfolk, Chesapeake, Portsmouth, Hampton, and Newport News. We offer fence installation for both residential and commercial clients. Contact us today for a free estimate!