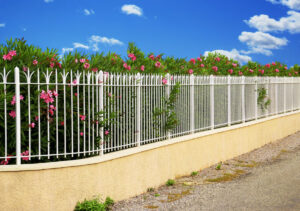 Dreaming of the elegance of decorative metal fencing? You need a dependable fence contractor to install it! Craftsman Fencing isn't just our name, it's what we do.

Craftsman Fencing provides professional fence installations in the greater Hampton Roads area. If you are thinking about installing decorative metal fencing, you need professionals who know fencing. There are a variety of metals to choose from and each have their merits. That's why we'll discuss your lifestyle with you when planning your fence, to make sure the fence you get is the fence you'll be happy with for decades to come.
About decorative metal fencing:
Traditional metal fencing, like what you see around The White House or Buckingham Palace, is wrought iron. Iron is durable, it's hard, and it's secure. Custom made and welded for strength, it lasts just about forever. You do need to paint it every 7-10 years.
In today's fencing market there are other metals to choose from. Aluminium alloys have come a long way and have one huge benefit: aluminium doesn't rust! It has the look of wrought iron without the cost or maintenance.
Another benefit of decorative metal fencing, is that security experts have determined that, because they don't block the view, they deter burglars who want to stay hidden.
Aside from elegant fencing around executive homes and upscale suburban neighborhoods, decorative metal fencing is commonly used around swimming pools and decks to allow for added air flow.
Call Craftsman Fencing today for your FREE Estimate (757) 464-4321
Need pricing for a new fence? Contact us now: