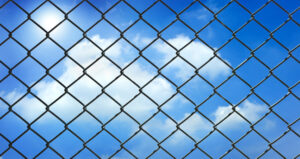 Need a reliable fence contractor to install chain link fencing in the Tidewater area? If so, you're in the right place!
Chain link fencing is one of the most recognizable type of fencing in Virginia. It's common in a variety of settings, including industrial and manufacturing facilities, sports fields and parks, and is also used in farming and residential applications. Chain link is an affordable solution to many problems that require fencing.
What are the Pros and Cons of Chain Link Fencing?
Chain Link Fencing Offers the Following Benefits:
Affordability – Chain link fence is the one of the most affordable fence options.
Low Maintenance – Chain link fencing requires little or no maintenance. All chain link fencing is galvanized, meaning the metal wire fence material underwent a chemical process to protect it from rusting. This extends the life of the chain link and limits the maintenance.
Safety – Chain link is popular as it contains children and pets in yards, while also allowing you to see through it to watch what's happening on the other side.
What are the disadvantages of of using chain link fencing
Residential security – While chain link fencing can be built tall, and barbed wire added to the top for security, that is typically done only in industrial and manufacturing settings. Homeowners typically use a four-foot chain link, which, as most people know, can be readily climbed over.
Appearance – There's just no nice way to say it, for home use… chain link fencing is UGLY. It's use in industrial applications has established it's reputation, so when people look at chain link fencing, they do not see beauty or style. There are some options to dress chain link fencing up, but if you're after ambiance or style, it's not really the way to go.
Lack Of Privacy – Chain link fence is like a screen, you can see right through it, so it offers no privacy. There is an option for putting slats in the chain link to improve privacy, but if privacy is a concern, another type of fence may be a better option.
While chain link fencing can be installed by homeowners, a professional installation will ensure a more stable fence. If chain link fencing is the right fence for you, we can help.
Craftsman Fencing provides professional fence installations in the greater Hampton Roads area.
If you are thinking about installing chain link fencing,
give us a call for a free estimate. (757) 464-4321
Need pricing for a new fence? Contact us now: