4 Reasons To Choose A Wood Fence
Why Choose a Wood Fence?
If you are looking for an excellent material to build your fence out of, you should definitely consider a wood fence. Here are four great reasons why.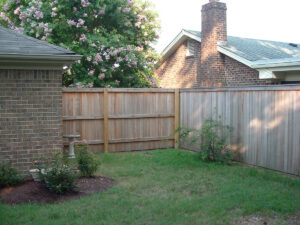 4 Reasons to Choose a Wood Fence
1. Great Natural Beauty
One awesome reason to install a wood fence is because of the natural beauty that wood has. The classic look of each wood plank creates a timeless-looking fence that will be in style for many years to come. The fence also looks much more natural because it is created from a natural material, rather than one that has been man-made. This is excellent if this is the look and style that you are going for.
2. Wood Can Be Painted
Another great aspect of wood is the fact that it can be painted. This means that if you aren't a fan of the color of wood, it doesn't matter. You can choose from a variety of colors and shades, and then have a top coat and sealant put on the paint to help seal it and protect it from weathering. This makes it easy to match your fence to your home, or anything else that you'd like it to coordinate with.
3. They Are Made To Last
A wood fence is created from strong and sturdy posts and thick planks that are made to last. They can resist a great deal of damage and weathering without becoming worn down or destroyed. While you will want to perform maintenance on your wood fence when necessary, this maintenance allows your fence to remain strong and looking great.
4. Wood Is More Affordable
If you are looking to build a great fence that isn't going to break the bank, then wood is a great option for you. The cost of wood is often much less than the cost of vinyl or aluminum, but still provides you with an excellent fence. This helps you to stay within your budget when building your fence and doesn't take away from the quality of it.
Wood Fence Installation
Craftsman Fencing offers wood fence installation in Virginia Beach, Norfolk, Chesapeake, Portsmouth, Hampton, and Newport News. Contact us today to learn more about our fence options and to schedule your free estimate!